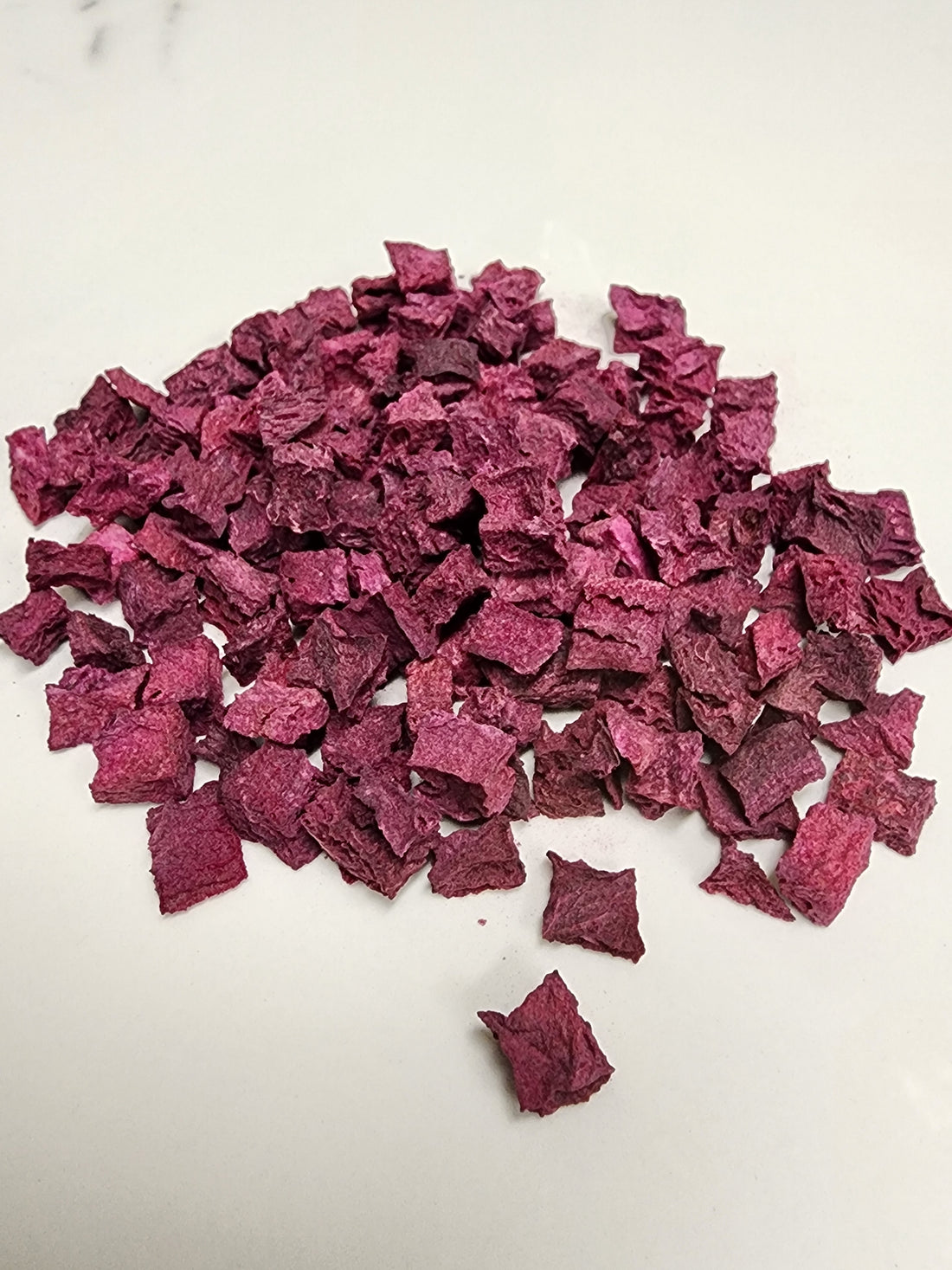 (NEW) Freeze-dried Beets (tiny pieces)
Introducing our Beet Toppers for Dogs – a delicious and nutritious addition to your furry friend's meals! Packed with flavor and vibrant color, these toppers are not only a tasty treat but also bring a myriad of health benefits to your canine companion.
OMD Beet toppers are a powerhouse of essential nutrients, including vitamins, minerals, and antioxidants that contribute to your dog's overall well-being. From immune support to skin and coat health, these toppers offer a wholesome boost.
Beetroot is known for promoting cardiovascular health, thanks to its natural nitrates that may help support healthy blood pressure. Treat your pup's heart to a little extra love with each meal.
Beet toppers are rich in fiber, beetroot supports a healthy digestive system. If your dog occasionally experiences digestive issues, these toppers can be a tasty and beneficial addition to their meals.
Our beet toppers are crafted with care, using only natural and Canadian high-quality ingredients. Free from artificial additives and preservatives, you can trust that your dog is getting the best nature has to offer.
Note:
This treat is commercially manufactured in a human grade facility. This commercial kitchen provides ingredients to a lot of bakeries and freeze dried camping meal kits.
Please keep an airtight container as it draws moisture quickly from the air and will become soft and sticky.
 QUANTITY: 65g (equivalent to 300g raw).
Smell-o-Meter 
On a scale from 1 to 5 (5 being smelliest) this treat is rated as a 1/5.
• For optimal freshness, keep product in the sealed bag provided or airtight container of your choice
• Store treats in a cool, dark & dry place
• Wash hands with soap and water after handling
• Always supervise your pet when feeding
Room Temperature: 1 month
Refrigerated: 2 months
Freezer: 1 year