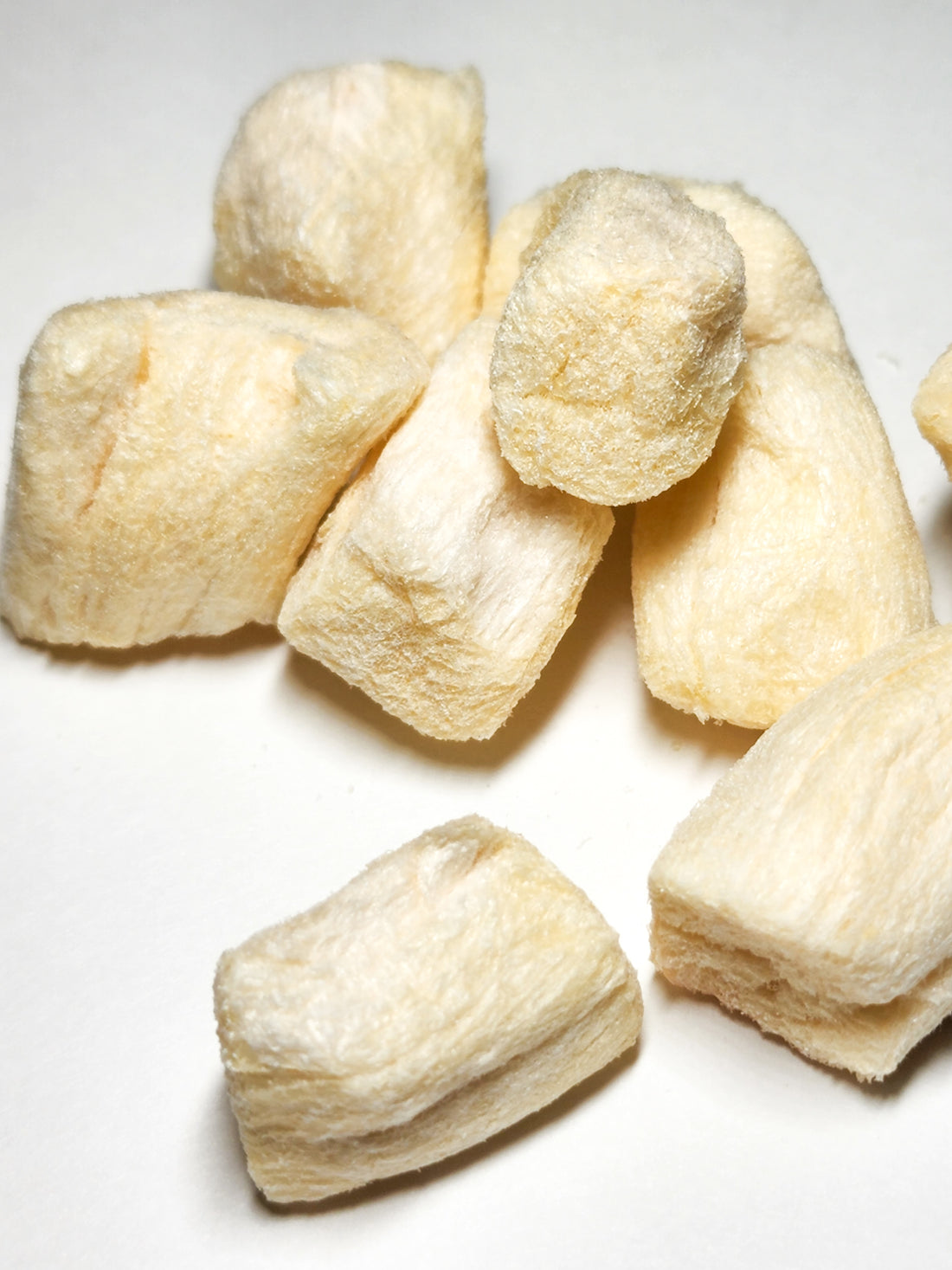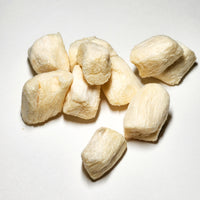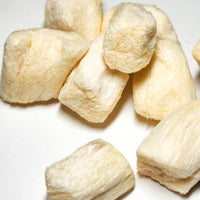 Freeze Dried Mini Scallops
Introducing our all-natural and healthy treat for your furry friend - Freeze Dried Mini Scallops! Made with 100% pure scallops, this treat is a delicious and nutritious snack for dogs of all sizes.
The freeze-drying process locks in the flavor and nutrients of the scallops, making it a perfect option for dogs who love seafood. 
Scallops are a nutritious and delicious treat for dogs that offer several health benefits. Some of the key benefits of scallops for dogs include:
High in protein: Scallops are a great source of protein, which is essential for building and repairing muscle tissue in dogs.

Rich in essential amino acids: Scallops contain all the essential amino acids that dogs need to maintain good health.

Good for joints: Scallops are rich in glucosamine and chondroitin, which are known to support joint health and mobility.

Supports heart health: Scallops contain omega-3 fatty acids, which are known to support heart health and help maintain a healthy heart rhythm.

Promotes healthy skin and coat: The omega-3 fatty acids in scallops can also promote healthy skin and a shiny coat.

Low in fat: Scallops are relatively low in fat, making them a great treat option for dogs who are trying to maintain a healthy weight.

Easy to digest: Freeze dried scallops are easy to digest and are less likely to cause digestive upset in dogs compared to other treats.
Our Freeze Dried Scallops are easy to digest and perfect for training, as well as a great way to show your furry friend some love and affection. They are also perfect for dogs with sensitive stomachs, as they are free from artificial preservatives, colors, and flavors.
In addition, our scallops are sustainably sourced and responsibly harvested, ensuring that your dog is receiving a high-quality treat that is good for them and the planet.
So why not treat your furry friend to a delicious and healthy snack that they will love? Try our Freeze Dried Scallops today and let the tail wagging begin!

• freeze dried
• single ingredient
• small batch
• antibiotic/hormone free

Recommended for dogs.

QUANTITY: ~ 25-30g (fresh weight - 125g)
Smell-o-Meter 

On a scale from 1 to 5 (5 being smelliest) this treat is rated as a 1/5.
• For optimal freshness, keep product in the sealed bag provided or airtight container of your choice
• Store treats in a cool, dark & dry place
• Wash hands with soap and water after handling
• Always supervise your pet when feeding
Room Temperature: 1 month
Refrigerated: 2 months
Freezer: 1 year