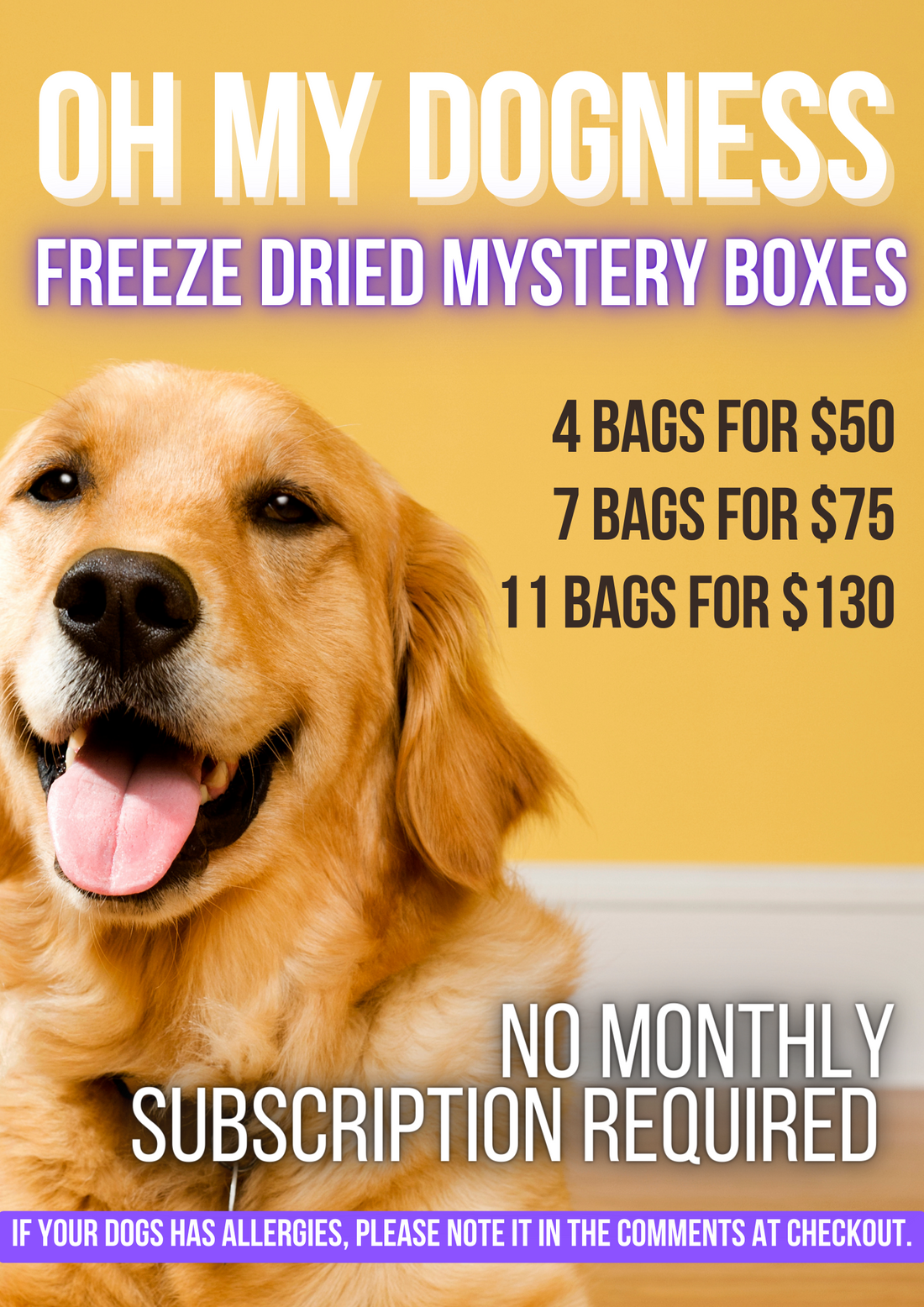 Freeze Dried Mystery Pack
MYSTERY GIFT BOXES - Freeze Dried Edition 
For the dogs and cats that go crazy for freeze dried treats, this box is for you. The best thing about this box is that there's no commitment. Well, maybe that's not the best part, the best part are definitely the treats.
We know there are lots of subscription services out there. But, some of us have commitment problems (like me) or just prefer not to accumulate too many treats. Whatever your reason is, you will love this box. 
These mystery boxes will come in three sizes and filled to the brim with delicious freeze dried goodness. Treats and chews will be from a variety of proteins.  Some items may be limited edition treats that are not available on our website yet. Sometimes, we may even throw a special treat for the human. Perhaps it's freeze dried skittles, or maybe it's freezer saltwater taffy. Who knows! That is the beauty of this box.

Simply send us a note in the comments when placing your order (in the comment section or via email (ohmydognesstreats@gmail.com) or through Instagram with your order number and any allergies or requests. 

• freeze dried
• single ingredient
• small batch
• antibiotic/hormone free

Recommended for dogs over 12 weeks old. We also recommend limiting these treats once per week for small dogs and 1-3 times per week for medium-large sized dogs. If you have questions regarding how much you can feed your dog, we would recommend you speak to your vet for a more personalized recommendation.
• For optimal freshness, keep product in the sealed bag provided or airtight container of your choice
• Store treats in a cool, dark & dry place
• Wash hands with soap and water after handling
• Always supervise your pet when feeding
Room Temperature: 1 month
Refrigerated: 2 months
Freezer: 1 year