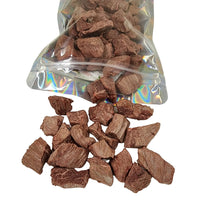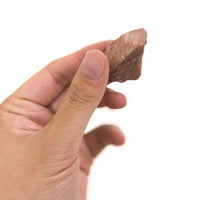 (NEW) Freeze Dried Venison Bites
Introducing our delicious and nutritious freeze-dried venison bites for dogs! Made from 100% Canadian venison meat, these treats are the perfect addition to your dog's diet.
Freeze-dried venison is a great source of nutrition for dogs and has several benefits, including:
High in Protein: Venison is a lean meat and is an excellent source of protein. It contains essential amino acids that help build and repair muscles, tissues, and cells.
Low in Fat: Compared to beef or pork, venison is a much leaner meat. It is low in saturated fat and cholesterol, making it an ideal choice for dogs that need to maintain a healthy weight.
Easy to Digest: Venison is a highly digestible protein source, and dogs with sensitive stomachs or food allergies may find it easier to digest than other meats.
Rich in Nutrients: Venison is rich in iron, zinc, and vitamin B12, which are essential for healthy blood cells, immune function, and energy production.
Grain-Free: Freeze-dried venison is often grain-free, making it an excellent choice for dogs with grain allergies or sensitivities.
Convenient: Freeze-dried venison is a convenient way to give your dog a healthy and nutritious snack. It is shelf-stable and easy to store, and can be served as a standalone treat or added to your dog's regular meals as a topper.
Overall, freeze-dried venison is a great choice for dogs that need a high-quality, nutrient-dense protein source. It is easy to digest, rich in essential nutrients, and free from grains and other common allergens.

• feeeze dried
• single ingredient
• small batch
• antibiotic/hormone free

Recommended for dogs only!

QUANTITY: freeze-dried weight: 50-65g, weight prior to freeze-drying 100-110g
Smell-o-Meter 

On a scale from 1 to 5 (5 being smelliest) this treat is rated as a 1/5.
• For optimal freshness, keep product in the sealed bag provided or airtight container of your choice
• Store treats in a cool, dark & dry place
• Wash hands with soap and water after handling
• Always supervise your pet when feeding
Room Temperature: 1 month
Refrigerated: 2 months
Freezer: 1 year